About The Global City Teams Challenge
The Las Vegas Valley Water District (LVVWD) leak monitoring project is a water conservation showcase site for The Global City Teams Challenge, a collaborative network of project teams or "action clusters", working on innovative applications of Internet of Things (IoT) technologies within a smart city / smart community environment. The program is administered by the U.S. Department of Commerce's National Institute of Standards and Technology (NIST). Project partners for the LVVWD water conservation project include AT&T, IBM, Mueller Water Products and the Nevada Center of Excellence. The project team selected water sustainability as its theme as the availability of fresh water resources is a problem effecting millions of people around the world. The project team set out to demonstrate that new technology approaches which are available today can help support a more sustainable plant.
Aging Water Infrastructure
In systems that deliver water to more than 100,000 people, 30% of the pipes are 40-80 years old.
Throughout the United States, water districts and utilities face a number of critical challenges including aging pipeline infrastructure, drought, funding shortages and an aging workforce in sole possession of critical system information. These challenges are forcing water utilities to adopt strategies that will help them evaluate and better manage the future operation of their systems. For most utilities, buried water pipelines represent the largest value asset within their system and typically carry replacement costs in excess of $1,000,000 per mile. A signifi cant amount of these assets were installed in the 1950s and are now reaching the end of their useful service life. Water main breaks are the fi rst visible impacts of aging water infrastructure, wreaking havoc on municipalities as pipes reach the end of their service lives. Small leaks are often referred to as "ticking time bombs" that go undetected for months, before revealing themselves as puddles, pressure drops, non-revenue water or devastating ruptures that fl ood streets and create property damage.
Situation
Leaks, big and small, waste water. For ratepayers, they can drive up the cost of water bills and in large pipelines, they can erupt into a major disaster. Most of the LVVWD's known water losses are due to failed small diameter service lines. To fi nd leaks on small diameter service lines, the District employs leak detection devices that periodically listen for sounds or vibrations that maybe caused by water seeping from the system. To fi nd leaks on large pipelines, the district manually surveys critical pipelines using sophisticated leak correlation equipment. But now, newer more advanced LTE enabled acoustical sounding technology is enabling the District to permanently monitor for leaks on one of the community's older and most in demand water lines located in the heart of the Las Vegas Strip. Installed in 1960's, the 30-inch water main supplies up to 7.5 million gallons of water per day to resorts, casinos and attractions. Charles Scott, LVVWD Engineering Project Manager describes the challenge. "The pipe was put in sometime around 1963. We had done some inspections of the pipe using a different technology. We were able to determine that several sections of the pipe were pretty much degraded. But we didn't really have a history of failures in the pipeline. So the dilemma was do we replace the pipe before it really fails, or do we keep waiting until it fails and then replace it. And do you really want to spend a lot of money digging up the Strip every thousand feet or so and replacing these few sections that we think are bad." The District had a common challenge that is faced by water system operators each and every day.
Since 2004, LVVWD has detected more than 1,600 underground leaks,
saving an estimated 290 million gallons of water.
Solution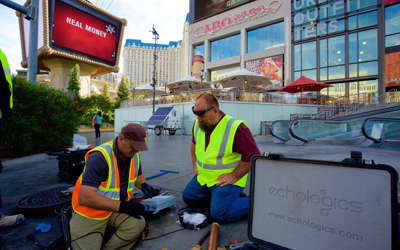 LVVWD deployed Mueller Water Products' EchoShore®-TX permanent leak detection platform. The smart technology enabled LVVWD to better understand and manage the critical water supply pipeline and to reduce any potential water loss due to leakage. The monitoring platform combines proven acoustic leak detection technology with leading-edge AT&T wireless connectivity and visual end-user dashboards to create a cost-effective monitoring solution. In Las Vegas, 13 permanent acoustic sensors are monitoring 3 miles of the aging pipeline installed under Las Vegas Boulevard, from Sunset to Flamingo Roads. "When this technology came along, it allowed us to think outside the box and say, really, the pipes don't fail catastrophically all of a sudden. They fail by having a very small leak which developed to a larger leak which eventually develops into a sink hole. So by having this technology we're allowed to monitor the pipe on a continuous basis to detect those small leaks before they get to be big leaks, and then be able to schedule an act and make repairs as needed. This allows us to extend the life of our pipes signifi cantly by doing this." noted Scott. Once activated, the acoustic sensors collect data about the pipeline section which is being monitored. At assigned times, the information is uploaded to a secure server where advanced algorithms interpret the data, search for leak signals and generate reports. A customized information interface is created for the utility which can be integrated into existing client software programs. In the event of a leak, notifi cation alerts can be sent to a mobile device.
Media Coverage:
| | | |
| --- | --- | --- |
| Forbes | AT&T And IBM Team Up To Connect Water Pipes To The Internet | www.forbes.com/sites/aarontilley/2015/06/01/att-ibm-water-leaks/ |
| USA Today | AT&T, IBM dive into water-saving game with connected tech | http://americasmarkets.usatoday.com/2015/06/01/att-ibm-dive-into-water-saving-game-with-connected-tech/ |
| IoT Evolution | AT&T And IBM Bring IoT to Bear on Water Shortage | http://www.iotevolutionworld.com/iot/articles/404334-att-ibm-bring-iot-bear-water-shortage.htm |
| Tech Investor News | AT&T And IBM Team Up To Connect Water Pipes To The Internet | http://www.techinvestornews.com/IBM/Latest-IBM-News/att-and-ibm-team-up-to-connect-water-pipes-to-the-internet |
| Austin-American Statesman | AT&T And IBM Team Up To Connect Water Pipes To The Internet | http://www.statesman.com/feed/business/att-and-ibm-team-up-to-connect-water-pipes-to-the/f8XLC/ |
| The Hub | AT&T, IBM dive into water-saving game with connected tech | http://thehubnny.com/att-ibm-dive-into-water-saving-game-with-connected-tech/ |
| Telecompetitor | Behind AT&T, IBM Smart Water Offering | http://www.telecompetitor.com/behind-att-ibm-smart-water-offering/ |
| Telecompaper | AT&T, IBM develop water monitoring system | http://www.telecompaper.com/news/atandt-ibm-develop-water-monitoring-system--1085237 |
| Wireless Week | FirstNews Briefs: Intel, AT&T, IBM, weBoost, Movimento | http://www.wirelessweek.com/news/2015/06/firstnews-briefs-intel-t-ibm-weboost-movimento |
| M2M World News Now | AT&T Helps Cities Save Water With New Technology | http://m2mworldnews.com/2015/06/01/50152-att-helps-cities-save-water-with-new-technology/ |
| RCR Wireless | Smart water pipes alert to leaks before small problems become big ones | http://www.rcrwireless.com/20150603/internet-of-things/ibm-use-iot-to-address-water-woes |
| EIN News Publications | AT&T And IBM Team Up To Connect Water Pipes To The Internet - IT Industry Today | http://it.einnews.com/article__detail/268435623?lcode=otNalICFi_tU71dBe-4j3A%3D%3D |
| News Reality.com | AT&T And IBM Team Up To Connect Water Pipes To The Internet | http://www.newsreality.com/post/atampt-and-ibm-team-up-to-connect-water-pipes-to-the-internet.html |
| Environmental Leader | AT&T, IBM, Mueller Water Products Helps Cities Save Water | http://www.environmentalleader.com/2015/06/02/att-ibm-mueller-water-products-helps-cities-save-water/ |
| Smart Meters | New IoT-based Technology for Smart Water Conservation | http://www.smartmeters.com/new-iot-based-technology-for-smart-water-conservation/ |