Companies that endure are built on a foundation and commitment to a set of shared values. To be a strong company on the outside, we have to be a strong company on the inside. Mueller continues to thrive not only as an industry leader, but as a company that embraces the highest levels of ethical standards.
Our core values define the Mueller Way. They are at the forefront of the way we do business, the way we conduct ourselves and the way we treat others.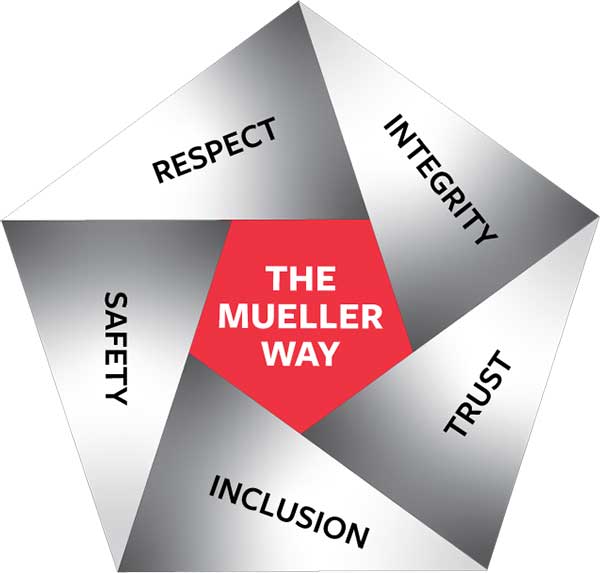 We Treat Each Other with
respect
We are considerate, professional and open in our interactions.
We treat all of our colleagues, customers and suppliers with respect.
We provide a healthy work environment.
We Act with
integrity

— Do the Right Thing
We are committed to maintaining high ethical standards in all of our business dealings.
We align our actions with our words and deliver what we promise.
We build and strengthen our reputation by acting with integrity.
We Value
trust
Trust is at the foundation of our relationships with our customers, communities, stakeholders and each other.
We recognize that more is accomplished by working as a team than by working alone.
We strengthen our business by building relationships that last.
We Prioritize
safety


and Environmental Responsibility
Our highest priority is to protect the health, safety and well-being of our employees.
We strive to adhere to work processes and procedures that reflect industry best practices and foster safety and environmental stewardship.
We Foster
inclusion
We are an inclusive organization that values diverse experiences and perspectives.
We strive for excellence and recognize that building upon our differences makes us stronger.
We all share the responsibility to create a positive culture and to safeguard equity, inclusion, and appreciation for different backgrounds and perspectives.
When we act on our values, we help to ensure long-term success for the Company, our employees, shareholders and customers.