Albertville, AL Plant Earns OSHA's Highest Safety Rating
Mueller Co. Albertville, Alabama plant earned the coveted "Star" certification from the United States Occupational Safety & Health Administration (OSHA) in October of 2013 as part of its Voluntary Protection Program (VPP).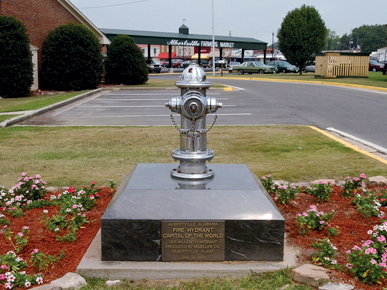 VPP recognize employers and workers in the private industry and federal agencies who have implemented effective safety and health management systems and maintain injury and illness rates below national Bureau of Labor Statistics averages for their respective industries. Star level recognition is the highest of three levels of qualification and recognizes employers and employees who demonstrate exemplary achievement in the prevention and control of occupational safety and health hazards the development, implementation and continuous improvement of their safety and health management system.
A safe workplace is foundational to the success of our entire organization
"A safe workplace is foundational to the success of our entire organization," said Gregory S. Rogowski, president of Mueller Co. "We are extraordinarily proud of our entire 850-person team in Albertville which has embraced our Core Value of fostering a safe and environmentally friendly environment. Their professionalism and commitment to safety has made this achievement possible.
Alabama Governor, Robert Bailey, recognized the achievement in a letter to plant manager Randy Epperson stating:
"Mueller Co.'s fire hydrants protect our families, homes and businesses. Because of your dedication to quality and service, Albertville, Alabama has earned the coveted title of Fire Hydrant Capital of the World. I am delighted that you are being recognized for producing these indispensable products safely and for protecting the health and safety of your employees."
News Coverage